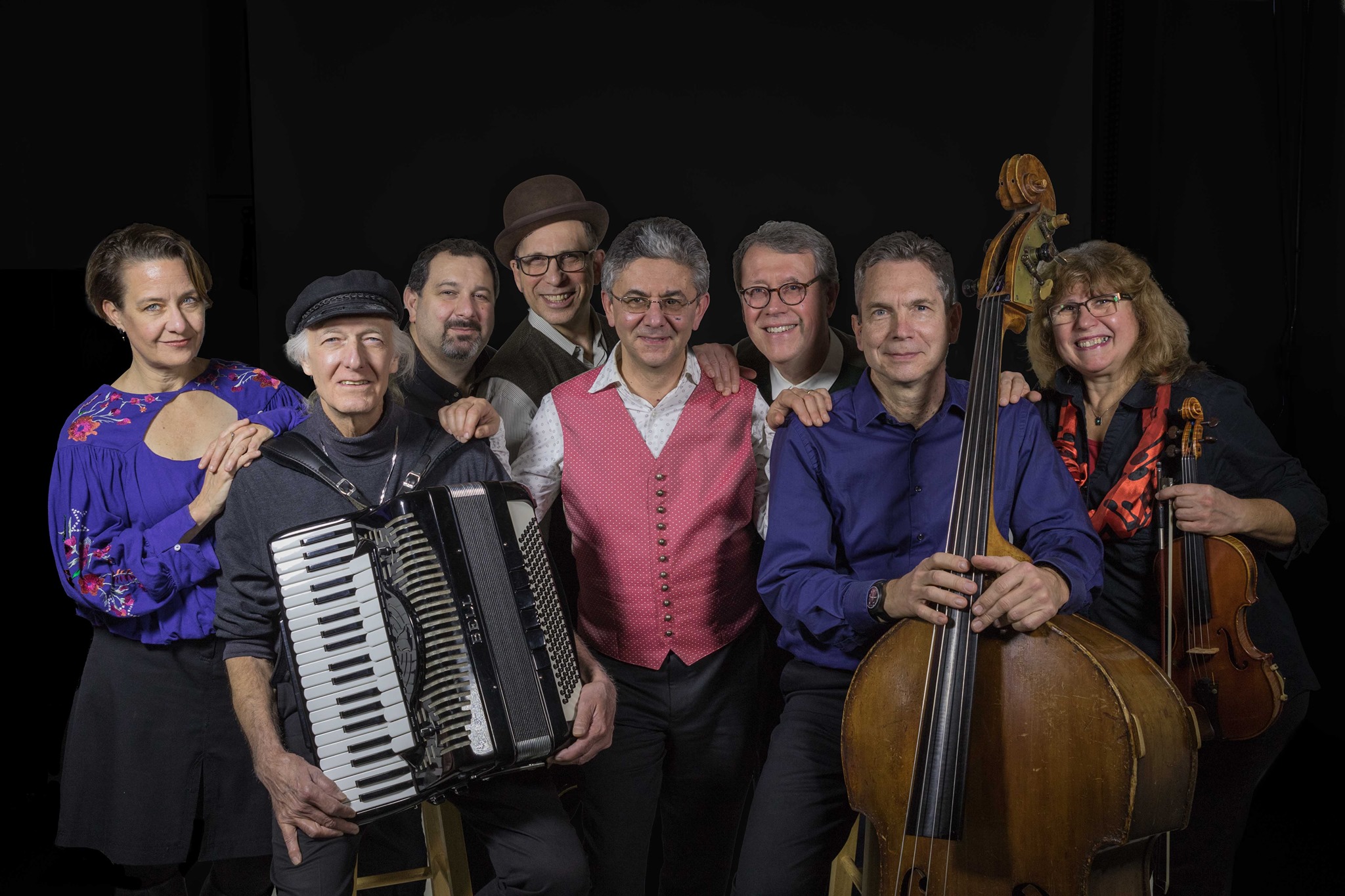 New Budapest Orpheum Society
Enjoy an entertaining evening with New Budapest Orpheum Society.
The New Budapest Orpheum Society is an Ensemble-in-Residence in the Division of the Humanities at the University of Chicago. NBOS presents concerts, tours, and recorded music drawing upon a wide range of repertories, many forgotten, others preserved in European archives, all poignantly bearing witness to the great tradition of Jewish cabaret. Enjoy this evening as they perform new songs prior to their return to the studio to record their 4th CD! View NBOS's previous CDs and learn more on the Cedille Records website.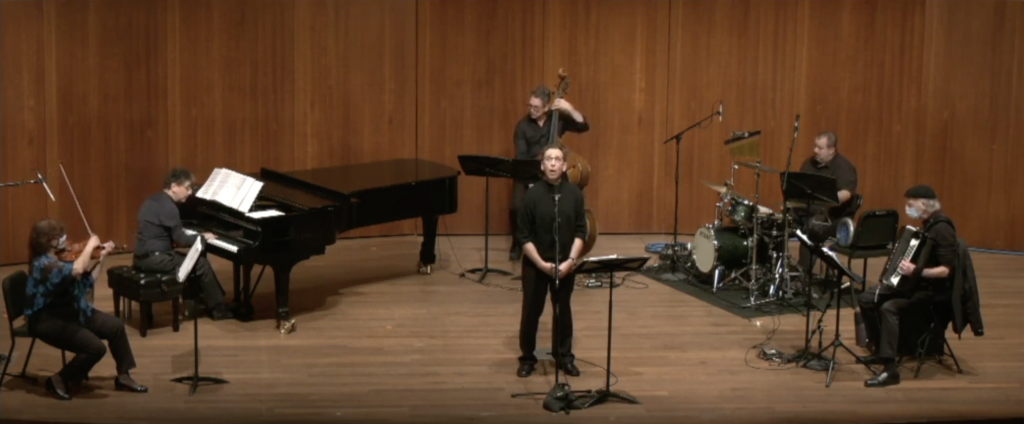 BIOS
Mezzo-soprano Julia Bentley enjoys performing a broad range of genres, from operatic roles of Mozart and Rossini to the dusky back rooms of cabaret in her appearances with the New Budapest Orpheum Society. She has appeared as a soloist for such conductors as Raymond Leppard, Robert Shaw, and Pierre Boulez, and has premiered more than 200 pieces, thanks to her passion for newly composed works. A regular guest with Chicago's ensembles, she is also on the faculty of several Chicago universities as a voice teacher, chamber music specialist, and lecturer in Art Song.
Philip V. Bohlman, artistic director, is the Mary Werkman Distinguished Service Professor of the Humanities and Music at the University of Chicago and Honorarprofessor of the Hochschule für Musik, Theater und Medien Hannover, Germany. He has received the Edward Dent Medal from the Royal Music Association, the Berlin Prize, the Derek Allen Prize from the British Academy, a Guggenheim Fellowship, and with the New Budapest Orpheum Society the Noah Greenberg Award from the American Musicological Society. Among his recent books are Revival and Reconciliation (2013) and Wie könnten wir des Herrn Lied singen in fremdem Lande? (2015).
Jim Cox, bassist, grew up in Champaign Illinois where he also attended and graduated from the University of Illinois in 1979. He has worked as a full-time professional musician since then based out of Chicago. He toured with Earl "Fatha" Hines from 1979-82. He also worked regularly with Marian McPartland for almost 20 years. Jim continues to free-lance locally and globally, performing and recording in various musical genres including jazz, klezmer, bluegrass, pop, cabaret and classical. Some of the artists he has worked with include Rosemary Clooney, Michael Feinstein, Debbie Boone, Liza Minelli, Ann Hampton Callaway, Christine Ebersol, Wesla Whitfield, Phil Woods, Don Stiernberg, Judy Roberts, Ray McKinley, The Maxwell Street Klezmer Band, Lyric Opera of Chicago and the Chicago Sinfonietta, Shari Lewis and Lamb Chop.
Stewart Figa, baritone, has served as cantor at West Suburban Temple Har Zion in River Forest since 1998, and has been a cantor in the Chicago area since 1990. He also comes to the New Budapest Orpheum Society from a tradition of Yiddish theater, beginning in New York City in the 1980s. He has had the privilege of working with some of the legendary greats of the Yiddish stage, including Leon Liebgold, Seymour Rexite, Reizel Boyzk, and Max Perlman. He has performed programs of Yiddish song throughout Chicagoland.
Danny Howard, percussion, is the newest member of the New Budapest Orpheum Society. With strong roots in the UK, he has built an international career that stretches across repertoires and genres, no less than across the English Channel and the Atlantic. Having studied in Cuba and Brazil, Danny has specialized in Afro-Cuban and Afro-Brazilian Folkloric music for over a decade and now runs his own Latin band. His first passion, nonetheless, was classical music. The New Budapesters could not be more thrilled that he's recently put down his diverse musical roots in Chicago.
Sam Hyson, accordion, is a Chicago-based musician with a passion for international music. He performs on violin, accordion, and other instruments, and has studied numerous international music styles with Chicago immigrant musicians from around the world. He cofounded Chicago Folklore Ensemble, with whom he collaborated to produce numerous concerts, two albums of music, and a book of immigrant stories which he co-edited. As an artistic collaborator, he is distinguished by his wide repertoire, quick memorization, improvisational versatility, broad knowledge of theory and harmony, and research and writing skills. He has performed on oud in theatrical performances with nationally acclaimed playwright Rohina Malik and plays Mexican and Latin music, Bengali folk music, Persian music, and Klezmer and Arabic music with the Salaam-Shalom Music Project.
Iordanka Kissiova, violinist, is active as an orchestral and chamber musician throughout the Chicago area and the state of Illinois. A native of Bulgaria, she studied in Sophia at the Bulgarian National Academy of Music before immigrating to the United States in 1993. She performed widely in Europe, among others with the "Sophia" women's orchestra. A string teacher with Quinlan and Fabish, she has played regularly in regional orchestras throughout the Midwest, among them Ars Viva. She has recorded for the Bulgarian Radio Orchestra and the New Budapest Orpheum Society.
Ilya Levinson, music director, arranger, and pianist, holds degrees in composition from the Moscow Conservatory and the University of Chicago (Ph.D. 1997). His works for chamber music and orchestra have recently enjoyed performances in France, Germany, and Bosnia-Herzegovina. His Klezmer Rhapsody is recorded by the Maxwell Street Klezmer Band on the Shanachie label. Composer-in-residence with American Music Festivals, he is Assistant Professor of Music at Columbia College Chicago. More info: https://www.cedillerecords.org/artists/ilya-levinson/
Soprano Anne Slovin is currently a third-year doctoral student at Indiana University's Jacobs School of Music, where she has studied with Julia Bentley and Patricia Havranek. An avid performer of new and recent opera, Anne created the role of Mica Segal in Lyric Opera of Chicago's premiere of The Property, a klezmer opera with a score by Wlad Marhulets and libretto by Stephanie Fleischmann. She has also performed roles in Sumeida's Song by Mohammed Fairouz and The Seduction of a Lady by Richard Wargo. In fall 2018, she joined the Indianapolis Opera Resident Artist program, premiering the role of Juliet in Star-Cross'd Lovers, a chamber opera by IU professor Don Freund. In demand as a choral and concert artist, Anne has sung frequently with Music of the Baroque, the Chicago Bach Project, and the Chicago Symphony Chorus.