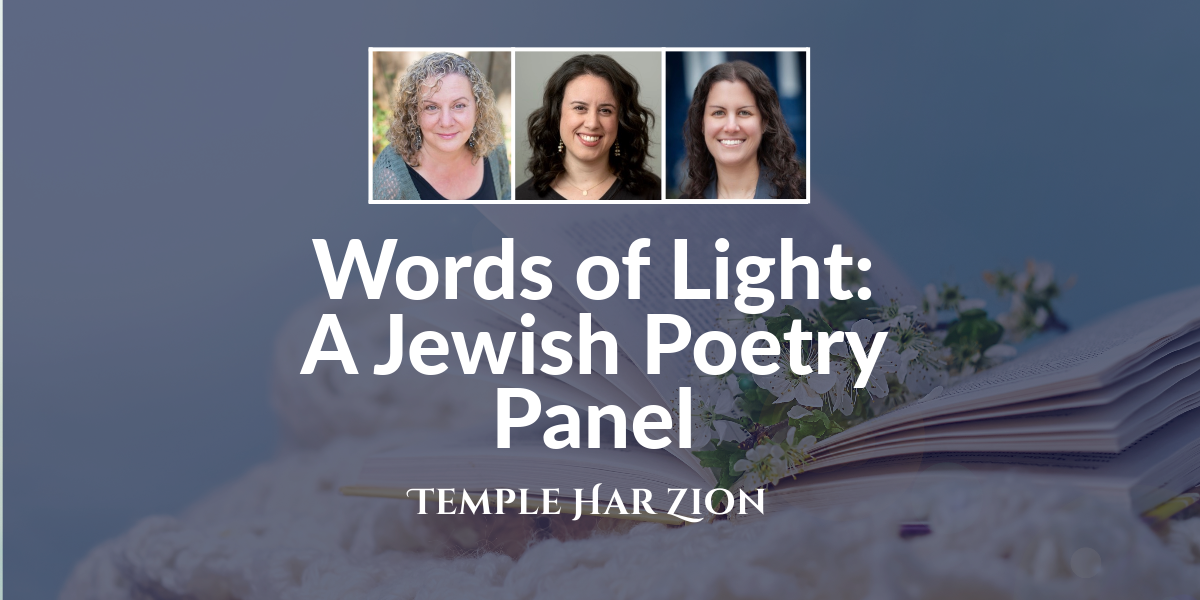 Words of Light: A Jewish Poetry Panel
"In the dark times / Will there also be singing? / Yes, there will also be singing. / About the dark times."  —Bertolt Brecht
What does it mean to be a Jewish poet during these dark times?
How do we keep our voices raised in song amidst so much suffering?
Poetry can be a source of light in the darkness. 
Join Dina Elenbogen, Hila Ratzabi, and Jamie Wendt, three Chicago-based Jewish women poets and astute witnesses, see and write through a Jewish lens as they celebrate and lament the worlds in which they are engaged. They write of loss and displacement, but also faith, hope, and healing. Together they are a powerful chorus of voices that help us discover how to live as a Jew and a mensch during these troubling times.
About the Poets

Dina Elenbogen is author of the poetry collection Apples of the Earth (Spuyten Duyvil, NY), the memoir Drawn from Water: An American poet, an Ethiopian Family, an Israeli Story (BkMkPress, University of Missouri), and the poetry collection, Shore (Glass Lyre Press). Her work has appeared in magazines and anthologies including: 101 Jewish Poems of the Third Millennium (Ashland Poetry Press), Lit Hub, Bellevue Literary Review, Prairie Schooner, Reform Jewish Quarterly, and others. She holds an MFA in poetry from the Iowa Writers' Workshop and teaches creative writing at the University of Chicago Writer's Studio. www.dinaelenbogen.com

Hila Ratzabi is the author of There Are Still Woods (June Road Press, 2022), winner of a 2023 gold Nautilus Award in poetry. Her poetry has been published in Narrative, Alaska Quarterly Review, The Adroit Journal, The Normal School, About Place, and elsewhere and has been anthologized in The Bloomsbury Anthology of Contemporary Jewish American Poetry and Ghost Fishing: An Eco-Justice Poetry Anthology. She holds an MFA in poetry from Sarah Lawrence College. She is currently director of communications at North Shore Congregation Israel (NSCI) and lives in Oak Park, Illinois, with her partner and two children. http://www.hilaratzabi.com/

Jamie Wendt is the author of the poetry collection Fruit of the Earth (Main Street Rag, 2018), which won the 2019 National Federation of Press Women Book Award in Poetry. Her poems and essays have been published in various literary journals and anthologies, including Feminine Rising, Green Mountains Review, Lilith, Jet Fuel Review, the Forward, and others. She contributes book reviews to the Jewish Book Council as well as other publications. She holds an MFA in Creative Writing from the University of Nebraska Omaha. She teaches English and lives in Chicago with her husband and two kids. https://jamie-wendt.com/
Praise for the authors' books
"Shore, Dina Elenbogen's ambitious new book, speaks about and stands up against a global pandemic of violence, bearing witness both to the suffering and loss in our world, but also to the healing power of family, faith, community, nature, and, most profoundly, words. … As we move through the richness of these poems, we encounter such haunting beauty … and arrive, uplifted and inspired, at a place of stillness where 'something deeper than love' can be found."
—Faisal Mohyuddin, author of The Displaced Children of Displaced Children
"A marvelous rendering of a world that is both known and incomprehensible. . . . Ratzabi offers her readers an ambitious yet intimate vision, threaded by faith, nature, art, and family [that] requires us to hold the earth and our mortality in a vulnerable reckoning, insisting that our lives are inseparable from a greater force, which might be love."
—Rachel Eliza Griffiths, author of Seeing the Body
"Jamie Wendt considers place and displacement from both a personal and cultural viewpoint. Indeed, it can be challenging to observe with an outsider's acute eye when one has the thoughtful heart of an insider. But it's just this ability that makes these poems of tradition, ritual, family and selfhood exceptional. Her descriptions delight, but I'm most impressed with her ability to distill images into statements that enlighten and so beautifully express the complexities of longing."
—Teri Youmans Grimm, author of Dirt Eaters