November 16, 2023 | Current Events | Israel
Reflections on the Washington March for Israel on Tuesday, Nov 14
Dear Friends,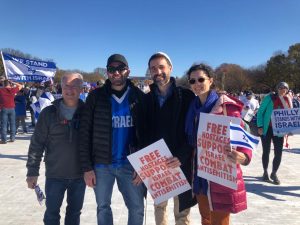 On Tuesday, Rachel and I, and a small group from our synagogue joined nearly 300,000 other American Jews in an extraordinary and exhilarating march for Israel in Washington D.C.
Our day began at Midway airport at 6am with a departure hall overflowing with blue and white. Everywhere we looked were Israel-themed beanies, shirts, and signs. There were young families, older couples, an impromptu minyan, and many students from universities and day schools. Our flight was more than 70% filled with participants off to the march.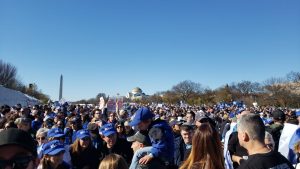 At Baltimore airport, the buses were full to go to Washington and Amtrak tickets were sold out. We took a ride share and arrived at the Mall to the moving scene of groups pouring in from all over the country, from large federation busloads, to schools, and individual families who made the trek. It was a sea of our people impassioned by the same desire – to show their support for Israel and the hostages, and to voice our collective solidarity against antisemitism.
We had been instructed not to bring in flags on poles. Many hundreds came draped in flags, both American and Israeli, or flags blending the two.
It was an afternoon showcasing the beautiful friendship between Israel and the United States. We heard speech after speech from Jewish leaders and politicians unequivocally supportive of Israel's right to defend itself against Hamas. Senate majority leader Chuck Schumer, Senator Joni Ernst representing Republicans in the Senate, House majority leader Mike Johnson, and House minority leader Hakeem Jeffries all spoke. Their speeches showcased the support for Israel from America's highest echelons. At the end of their talks, they came together, across the aisle, to hold hands up and say three times, "we support Israel."
Speaking to two other members of our congregation there (there was another group from our synagogue in a different part of our massive gathering), it felt surreal to watch this wave of political support for our tiny Jewish state at its great time of need in front of the capitol of the most powerful nation in the world. It was even more surreal to then hear an Israeli religious rocker, Yishai Ribo speak about it being Rosh Chodesh Kislev, seeing a sea of infinite light before him (the crowd), and sing psalm 121, "I lift up my eyes to the mountains. From where will my help come? My help comes from the Lord, Maker of heaven and earth." We were brought to tears by the families of the hostages and inspired by the teenagers and college students.
Artists sang songs that touched hearts, "Am Yisrael Chai," "Acheinu Kol Beit Yisrael" (a prayer for the release of hostages we say at minyan twice a week), "Vayehi She'amda" (the prayer from the Passover seder that declares that in every generation they come to destroy the Jews but Holy One comes to save us), and a surprise appearance by Matisyahu who sang "One Day," a song that echoed through the throngs with our most deeply held yearning for peace in our ancient homeland and troubled world.
The march was capped with the crowd singing Hatikvah led by the Israeli artist Omer Adam, which is on Facebook at: https://www.facebook.com/reel/656446423315792
You can watch the full recording of the march at: https://www.marchforisrael.org/watch-the-march/
At the end of the march, we got back on a plane filled with Jewish Chicagoans, our hearts and souls a little more filled and healed from the shock of the October 7th massacre.
I wanted to bring you a small taste of a special day in the life of our people as we face our most challenging moment in 75 years. Please do not hesitate to reach out.
Sincerely,
Rabbi Adir Glick
---